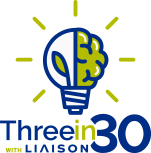 We believe in the power of genuine connections.
Introducing Liaison's Three in 30 video series - authentic conversations on trends, insights, and experiences in higher ed.
We're getting to the heart of what higher ed leaders really think, feel, and know – their unedited opinions, ideas, and reactions. By listening in to these down-to-earth perspectives in Liaison's Three in 30 video series, you will:
expand your practical knowledge and gain a deeper understanding of the latest trends shaping higher education.
learn from real-life experiences shared by peers who have navigated challenges and achieved success.
draw inspiration from the stories and accomplishments at other universities.
---
Watch today to uncover fresh perspectives that will fuel your motivation
to aspire, achieve, and positively impact your community.
---
Listen TO the latest conversationS
Three in 30: Reactions to the Supreme Court Ruling on Race-Based Admissions Policies


What We Are Hearing: Perspectives from Three Graduate Education Thought Leaders
Graduate · Engineering · Business
Eager to hear more?
Subscribe now to be the first to hear when we've added videos to our inspirational library of on-demand videos.